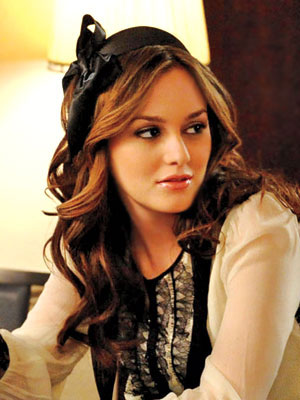 Hair
Any of these looks are possible to achieve using a curling iron, straightener, or hot rollers. Never fry your hair! You can curl your hair without heat by using
heatless curler
.
Use these rollers & curlers is a simple way to give your hair lift, body and a head full of beautiful curls or waves, even if the hair you were born with is straight as a board. With it you'll be able to roll your hair quickly and easily and achieve movie starlet worthy hair.
If your hair is naturally wavy, you can use smoothing serums or shampoos to create more curly hair.
Makeup
Blair wears very neutral, neat makeup. For special occasions, either play up your eyes or your lips. Blair never looks overdone. Blair always has the perfect pout, so lip glosses and balms are your best friends.
Step 1: Apply foundation (try
Naturactor Face Cover
) to even your skin tone and use brow pencil to fill in brows for definition.
Step 2: Use black eyeliner on upper and lower lash lines and inner rims, smudging out the corners a bit. Apply two coats of black mascara. If you have short lashes, use false lashes (try
Eyelashes 7
) to finish your eyes.
Step 3: Sweep a light application of bronzer on the apples of your cheeks and your forehead.
Step 4: Line your lips with a cherry red lip pencil then fill them in to help the color stay. Follow up with a matching lipstick that has a slight sheen to it. Make sure lips are moisturized (try
Hersey Chocolate Lip Balm
) beforehand so there's no flaking or feathering.
Good Luck everyone!